Wokka-wokka-wokka-wokka. I'm taking a break from the amazing Pac-Man Google Maps take-over to bring you what's buzzing in the art world. Read up and own the cocktail party this weekend!
Here are our favorite stories of the week:
Might your next big sale be one Instagram post away?

Instagram isn't just for candid puppy shots and #foodporn anymore. Big business is going down in this micro-blogging world.
Avid art collector and movie star Leo DiCaprio turned to Instagram for the latest addition to his burgeoning art collection. The actor secured this painting by artist Jean-Pierre Roy, titled "Nachlass (2015)," after seeing it on the social media image-sharing site.
The piece was on display at PULSE New York Contemporary Art Fair, through Copenhagen's Gallery Poulsen. A representative for Gallery Poulsen said, "Leonardo spotted it on Instagram and bought it over the phone."
No word on if he double-tapped and hired a Taskrabbit to pick it up.
What is this? A painting for ants?

Well. Yes, actually.
Last year Lorraine Loots, a miniaturist painter from Cape Town, South Africa started a new project. She decided to do one miniaturist painting a day, measuring smaller than 30mm x 30mm.
Her friends teased her, asking what she was going to do with paintings that were so small. She started joking back that they were for ants.
The project quickly grew legs.
She followed up the initial project with a series titled 365 Postcards for Ants, focusing on her native Cape Town, earning immense Instagram fame.
Picasso's electrician forced to give back $100 million 'gift'

Pierre Le Guennec was living the life. An electrician living in the south of France in the early 1970's, he got the once-in-a-lifetime gig of installing burglar alarms – among other things – for one Mr. Pablo Picasso.
Guennec worked for Picasso for three years, until the artist died in 1973, and continued to work for his widow, Jacqueline, until she died 13 years later.
For his years of loyal servitude, Jacqueline allegedly gave him a trunk full of the artist's original works as a gift; a collection of cubist collages, drawings, lithographs, notebooks and a watercolor. Score, right?
Not so fast.
Fast forward 40 years, to when Pierre contacted Picasso's son to have the works authenticated. Authenticate they did, but not before they slapped him with a lawsuit alleging they were received illegally.
After several years in court, a French judge finally ruled that Le Guennec must return the paintings (valued at $100 million). Ouch!
Following the verdict, Picasso's daughter poured salt about as poetically as words will allow: "It's a downright cheek to try and make us swallow that story." Double ouch!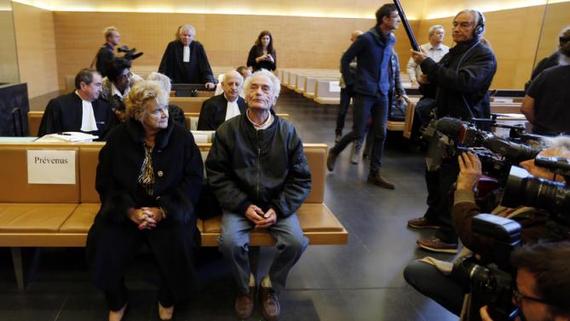 Like what you read? Check out Edition 1 here and Edition 2 here.
Original Article: Art Digest: Leo Buys Art on Instagram, Tiny Paintings Hit it Big, and Picasso's Electrician is Found Guilty