By Eleanor Goldberg
Actor Orlando Bloom said he couldn't begin to "comprehend" the loss Liberians faced during the Ebola crisis. But he hoped his presence could at least help urge survivors to get involved in preventative programming.
The UNICEF Goodwill Ambassador concluded a four-day trip to the West African country last week, during which time he met with leaders, students and grieving families and helped promote community programs that are working to prevent such a crisis from happening again.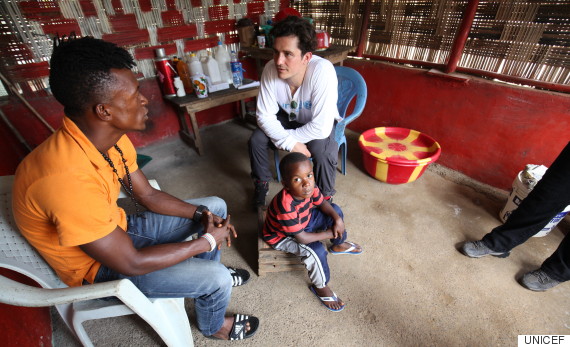 In a video interview with UNICEF, the actor shared how Ansu Anderson Turay, 29, lost his wife, two daughters, infant son and family-in-law to Ebola. The grieving dad is now raising his 6-year-old son, Abraham, on his own.
"I just can't believe that it's a matter of months ago that this all happened," Bloom said. "I think they're all just dealing with the aftermath … on such a profound level."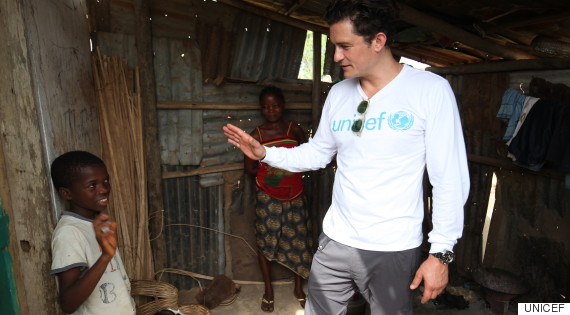 Orlando Bloom waves goodbye to a boy, who is one of eight siblings, being raised by his mom in Tubmanburg in Bomi County.
More than 4,000 people succumbed to Ebola in Liberia alone, which was one of the hardest hit countries during the historic outbreak, according to the CDC.
As the country begins to heal, and schools begin opening up again aid groups, like UNICEF, are implementing rigid preventative programs. Bloom partook in a number of those measures, and urged students to get involved in outreach efforts.
Before entering the Paynesville Community Public School, for example, Bloom washed his hands, a precaution that is now being widely enforced to prevent the virus' spread.
The star joined members from Adolescents Leading an Intensive Fight Against Ebola (A-LIFE). The group aims to get young people involved in a social platform developed by UNICEF that enables "U-Reporters" to communicate via text message about Ebola-related issues.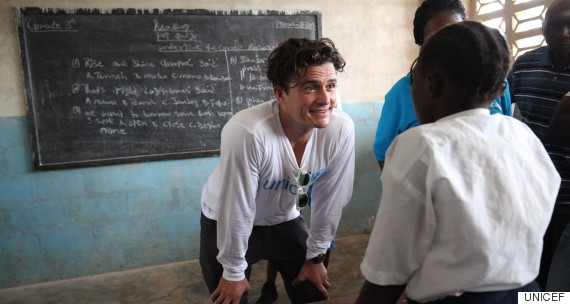 Orlando Bloom chats with a girl during his visit to Jene Wonde Central Public School, which reopened in March after nine months.
To fully grasp the lengths to which health workers and community leaders go to protect people from contracting the virus, the British actor partook in their routine.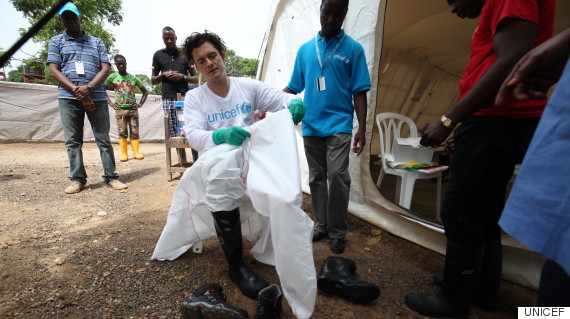 Bloom donned the cumbersome outfits medical workers wear before entering a high-risk zone, which includes special coveralls, heavy duty gloves and rubber boots.
"I'm sweating so much right now, it's running down my chest," he said.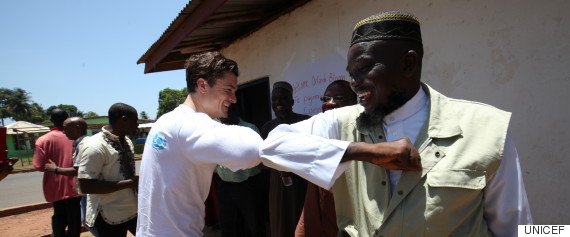 When he met with a local imam, Bloom also engaged in the area's new and hygienic "handshake," which involves tapping elbows. The greeting is part of the "no-touch policy," which replaced a traditional handshake where people clasped hands and clicked fingers.
"Everyone I met was determined to beat Ebola so that they can resume their normal lives," Bloom said in a statement after observing the area's precaution processes. "Communities have been at the center of the fight against Ebola and must continue to be supported because of their crucial role in getting to zero cases."
Original Article: Orlando Bloom Shows Youth What They Can Do To Fight Ebola