By Robbie Couch A little thinking outside the box can go a long way in helping bring clean H2O to those who need it most.
About 89 percent of the globe had access to improved sources of drinking water in 2012 — up significantly from 76 percent in 1990, according to a report released last year by the World Health Organization (WHO).
Although there's still significant progress to be had (roughly 748 million people still lack access, the United Nations notes), inventive thinking is in part to credit for helping more communities connect to the crucial resource.
In honor of World Water Day on Sunday, here are a few recent innovative solutions that have brought safe drinking water to more people around the globe.
This Billboard Makes Drinking Water Out Of Thin Air — (Almost) Like Magic
A billboard in Lima, Peru, took a new approach to an old problem.
Ad agency Mayo DraftFCB partnered with the University of Engineering and Technology of Peru in 2013 to create a billboard that captured air humidity and turned it into potable drinking water. The innovation helped area residents make ends meet in a country that gets less than two inches of rain a year, according to a video produced by the school.
The state of water insecurity led to many Peruvians having to rely on unsafe drinking water from polluted wells. But, according to one local resident, the billboard could serve as a viable problem-solver.
"They could put this in different places if possible in each village, in each town," Francisco Quilca told the university.
The Drinkable Book Filters Contaminated H2O While Educating People On Unsafe Water
The Drinkable Book is as clever as its name.
Functioning similarly to a coffee filter, pages in the book — created by nonprofit WaterIsLife last year — filters polluted and unsafe drinking water, and costs just pennies to produce.
As the video above notes, people in many underserved regions of the world don't realize contaminated water can be harmful to ingest. This Drinkable Book not only acts as a filtering system — killing diseases like cholera and E. coli — but its pages feature content that educates people on drinking water safety.
WATERisLIFE partnered with researchers at Carnegie Mellon and the University of Virginia to create the book.
This Map Proves Clean Water Solutions Are Happening All Around The World
UNICEF created an interactive map that pinpoints where innovative clean water projects are taking place around the globe.
In Chad, for example, the organization has supported solar-powered water pumps that have helped bring clean water to underserved communities while also fighting off disease. Since the pumps have been installed, cholera cases in the country have dropped dramatically, according to UNICEF.
In Liberia — a country still overcoming the recent Ebola outbreak — the humanitarian organization has played a vital role in ensuring sick patients get enough water to survive.
"For each Ebola patient to be fully cared for, we need at least 150 liters of water," Michael Forson, water and sanitation specialist for UNICEF, said in a video produced by the organization. "That is 10 times what a normal Liberian gets as of now."
In a new treatment center, UNICEF provides water that's used in a variety of ways — for cleaning clothes, for drinking and disinfecting the facility — to help patients overcome the illness.
The Omniprocessor Turns Human Waste Into Water.
Bill Gates isn't afraid to lay it all on the line if it means promoting a good cause.
In January, the billionaire philanthropist drank water that was once human feces from the Omniprocessor — a machine built by Seattle engineering firm Janicki Bioenergy — to prove science can be a great ally in improving clean water access around the world.
The machine uses a steam engine to burn waste, producing water and electricity.
"The water tasted as good as any I've had out of a bottle," Gates wrote in a blog post. "And having studied the engineering behind it, I would happily drink it every day. It's that safe."
As bringing Western toilets to underserved communities can be expensive, Gates believes forward-thinking projects like the Omniprocessor can play a role in connecting more people with drinking water.
Cow Poop Can Also Play A Role Making Clean Water A Reality.
Bill Gates isn't the only one who gets the benefits of waste.
After developing for about 10 years, engineers at Michigan State University (MSU) created the McLanahan Nutrient Separation System — a technology that extracts nutrients and pollutants from cow waste to produce water clean enough for the cows to drink. The system could help farmers' manage waste produced on their land, as well as lessen their livestock's environmental impact.
"Here in Michigan, we have a tendency to take water for granted," MSU's Steve Safferman said in a statement. "But out west, for example, where drought remains an issue, the accessibility of clean water could make the difference between a farm remaining viable or going out of business."
The system uses air stripping, ultrafiltration and reverse osmosis to remove pollutants from the manure and produce clean water.
An Inventive Water Purifier Brought Clean Water Relief To Haitians In Need.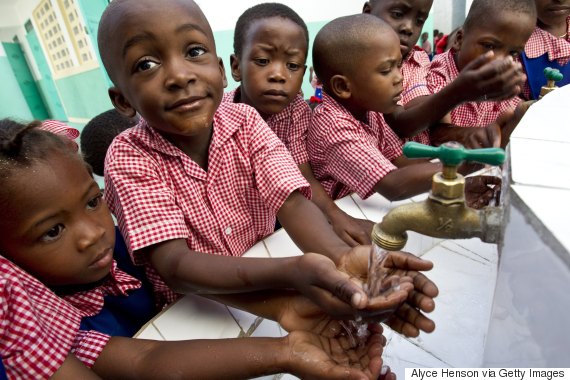 School children drink clean water from a fountain provided by Rotary International at an elementary school in Les Cayes, Haiti. (Photo by Alyce Henson/Rotary International/Getty Images)
Graduate students from Seattle University developed a water purification system that's improving lives thousands of miles away.
Plumbers Without Borders — an organization that allows volunteer plumbers the opportunity to help with international clean water and sanitation efforts — utilized the students' creation to further its mission in the wake of the devastating 2010 earthquake in Haiti.
In the two years following the quake, the organization helped install 15 of the purifiers, which can produce 10,000 gallons of clean water every day. Fred Schilling of Plumbers Without Borders told The Huffington Post that the purifiers have been like "winning the lottery" to Haitians who've benefitted.
Original Article: These Brilliant Innovations Are Bringing Clean Water To People Worldwide